Incoloy 825 Round Bars Manufacturer, Supplier & Exporter in Mumbai, India
Incoloy 825 Round Bars Manufacturer, UNS N08825 Round Bars Supplier, Incoloy 825 Bars, Werkstoff Nr. 2.4858 Round Bars, ASTM B425 Incoloy 825 Bright Bars Stockist, Incoloy 825 Hex Bars Trader, Incoloy 825 Square Bars Dealer, Incoloy 825 Flat Bars Exporter, Incoloy 825 Rods Distributor in Mumbai, India
Incoloy 825 Hot Rolled Bars, ASME SB425 Incoloy 825 Rectangular Bars, UNS N08825 Polished Bars, DIN 2.4858 Threaded Bars, Incoloy 825 Cold Drawn Round Bars, Incoloy 825 Black Bars Exporter, Incoloy Alloy Forged Bars, Incoloy 825 CR Bars, Incoloy 825 Hexagonal Bar Manufacturer in India.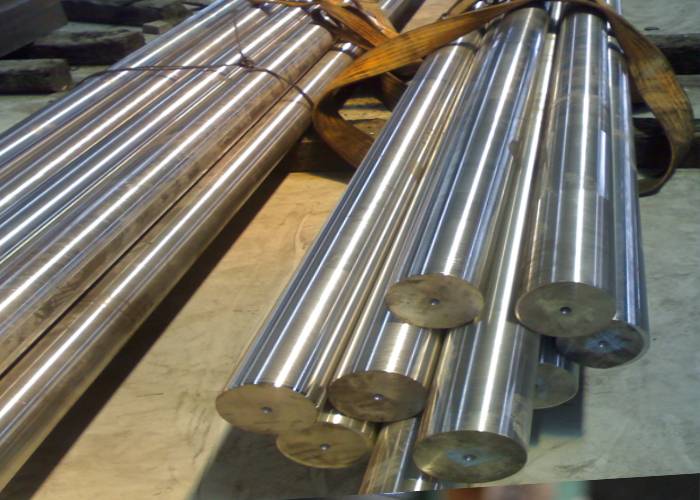 High Quality Incoloy 825 Round Bars & Rods are manufactured, supplied, and exported by Prime Tube Impex in India. We make Incoloy 825 bars using the highest quality raw materials and latest technologies. Before delivering Incoloy 825 Bars & Rods to our clients, our quality inspectors perform several destructive and non-destructive tests to guarantee that quality is not compromised at any stage of the manufacturing process. Our Incoloy 825 Round Bars and Rods are produced in accordance with national and international standards such as ASTM, ASME, DIN, NFA, JIS, and IBR. Incoloy 825 Round Bars and Rods are available to customers across the globe at competitive costs and in a timely way with proper packaging.
These Incoloy 825 Bars are an austenitic nickel-iron-chromium alloy with extra alloying elements added to improve chemical corrosion resistance. These Incoloy 825 Round Bars have excellent toughness, even when operated continuously at room and increased temperatures up to 550 degrees Celsius (1020 Degree F). The stress corrosion cracking resistance of these Incoloy 825 Square Bars is excellent, as is the resistance to pitting and crevice corrosion. These Incoloy 825 Round Bars are corrosion resistant even in acidic environments. They are easily formable and weldable using a number of procedures. Depending on the demands of the customer, we provide Incoloy 825 Round Bars & Rods in a variety of sizes, diameters, lengths, finishes, forms, tolerances, standards, and other specifications. Oil and gas, petrochemicals, pharmaceuticals, pulp and paper, power generation and chemical industries, automobile industry, shipbuilding, nuclear power plants, and other industries and applications use them.
Prime Tube Impex is your one stop source for Incoloy 825 Round Bars. Get in touch with us today with your requirements. Our experts will get back to you with the best quote for your requirement for Incoloy 825 Bars & Rods.
Incoloy 825 Round Bars Price, Ready Stock of Incoloy 825 Round Bars, Incoloy 825 Cold Rolled Bars, High Quality Incoloy 825 Bars, Export Quality Incoloy 825 Bars & Rods, DIN 2.4858 HR Bars, Latest Price of Incoloy 825 Round Bars, Incoloy 825 Bars Dealer in Mumbai, India
Incoloy 825 Round Bars Specifications:
| | |
| --- | --- |
| Specifications: | ASTM B425 / ASTM SB425 |
| Standards: | N, DIN, JIS, ASTM, BS, ASME, AISI |
| Size: | 5 mm To 500 mm |
| Diameter: | 0.1 mm to 100 mm |
| Length: | 100 mm To 3000 mm Long & Above |
| Finish: | Black, Bright Polished, Rough Turned, NO.4 Finish, Matt Finish, BA Finish |
| Tolerance: | H8, H9, H10, H11, H12, H13K9, K10, K11, K12 or as per clients' requirements |
| Form: | Round, Square, Hex (A/F), Rectangle, Billet, Ingot, Forging Etc. |
Incoloy 825 Round Bars Chemical Composition
---
| Grade | C | Mn | Si | Al | S | Cr | Cu | Ni | Fe | Ti |
| --- | --- | --- | --- | --- | --- | --- | --- | --- | --- | --- |
| Incoloy 825 | 0.05 max | 1.00 max | 0.05 max | 0.02 max | 0.03 max | 19.50-23.50 | 1.50-3.00 | 38.0-46.0 | 22.0 min | 0.06 – 1.20 |
---
Incoloy 825 Round Bars Mechanical Properties
---
| Density | Melting Point | Tensile Strength | Yield Strength (0.2%Offset) | Elongation |
| --- | --- | --- | --- | --- |
| 8.14 g/cm3 | 1400 °C (2550 °F) | Psi – 80,000 , MPa – 550 | Psi – 32,000 , MPa – 220 | 30 % |
---
Equivalent Grades of Incoloy 825 Round Bars
---
| STANDARD | WERKSTOFF NR. | UNS | JIS | BS | GOST | AFNOR | EN | OR |
| --- | --- | --- | --- | --- | --- | --- | --- | --- |
| Incoloy 825 | 2.4858 | N08825 | NCF 825 | NA 16 | ЭП703 | NFE30C20DUM | NiCr21Mo | XH38BT |
---
Incoloy 825 Round Bars - Types
---
Inconel 825 Bright Bar
825 Inconel Bright Bar
Inconel Alloy 825 Bright Bar
UNS N08825 Inconel Bright Bar
WERKSTOFF NR. 2.4858 Bright Bar
ASTM B425 825 Inconel Bright Bar
Inconel 825 Hex Bar
825 Inconel Hexagonal Bar
825 Inconel Alloy Hex Bar
UNS N08825 Inconel Hexagonal Bar
ASTM B425 825 Inconel Hex Bar
Inconel 825 Square Bar
825 Inconel Square Bars
825 Inconel Alloy Square Bar
UNS N08825 Inconel Square Bar
WERKSTOFF NR. 1.4859 Square Bar
ASTM B425 825 Inconel Square Bars
Inconel 825 Rectangular Bar
825 Inconel Rectangular Bars
825 Inconel Alloy Rectangular Bar
UNS N08825 Inconel Rectangular Bars
WERKSTOFF NR. 2.4858 Rectangular Bar
ASTM B425 825 Inconel Rectangular Bar
Inconel 825 Flat Bar
825 Inconel Alloy Flat Bars
UNS N08825 Inconel Flat Bars
WERKSTOFF NR. 2.4858 Flat Bars
ASTM B425 825 Inconel Flat Bars
Inconel 825 Polished Bar
825 Inconel Polished Bars
825 Inconel Alloy Polished Bar
UNS N08825 Inconel Polished Bars
WERKSTOFF NR. 2.4858 Polished Bar
ASTM B425 825 Inconel Polished Bar
Inconel 825 Threaded Bar
825 Inconel Threaded Bars
825 Inconel Alloy Threaded Bar
UNS N08825 Inconel Threaded Bar
WERKSTOFF NR. 2.4858 Threaded Bar
ASTM B425 825 Inconel Threaded Bar