Incoloy 800 Pipes Manufacture, Supplier & Exporter in India
Incoloy 800 Pipes Supplier, Incoloy 800 Welded Pipes Stockist, ASTM B407 Incoloy 800 Seamless Pipes Exporter, Incoloy UNS N08800 Pipes Distributor, ASTM B514 DIN 1.4876 Pipes Dealer, ASME SB407 Incoloy 800 Pipes Manufacturer in India.
Incoloy 800 Round Pipes, Incoloy 800 Square Pipes Trader, Incoloy UNS N08800 Rectangular Welded Pipes Stockist, ASME SB514 Incoloy 800 Seamless Pipes, Incoloy 800 Hot Rolled Pipes, Incoloy 800 Cold Drawn Pipes, Incoloy Alloy 800 LSAW Pipes, Incoloy 800 ERW Pipes Exporter in India.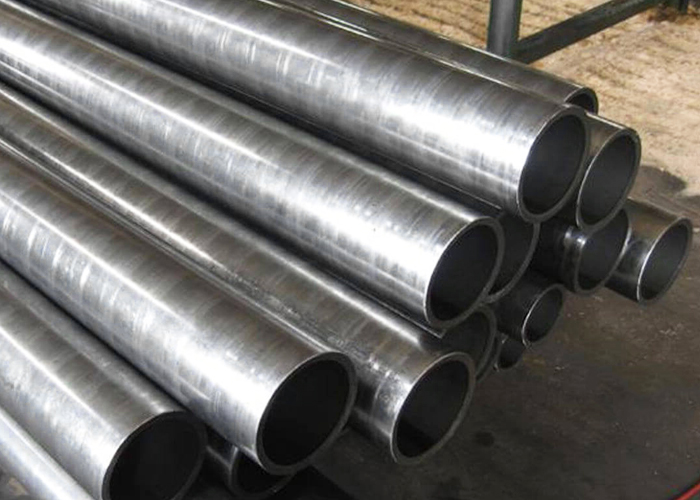 Prime Tube Impex is a renowned manufacturer, supplier, stockist & exporter of Incoloy 800 Pipes in India. These Incoloy 800 Pipes are manufactured with superior quality raw materials and under the supervision of our skilled engineers. Our Incoloy Pipes go under several quality tests before dispatching to our clients worldwide to ensure every product is defect-free and quality approved. Our Incoloy 800 pipes are manufactured by various national and international standards such as ASTM, ASME, DIN, NFA, JIS, IBR. Our range includes Incoloy 800 Seamless Pipes, Incoloy 800 Welded Pipes, Incoloy 800 ERW, EFW, HFW, CDW, HFS, CDS, LSAW, Fabricated Pipes.
Our Incoloy 800 Pipes are available in various sizes, thickness, dimensions, types, form, length, and other specifications as per the customer's requirement. Our Incoloy 800 Pipes are durable, have good strength, and are corrosion resistant. These Incoloy 800 pipes are widely used in Oil and Gas, Petrochemical, Power Generation, Shipbuilding, Nuclear Power Plants, Fertilizers Plants, Chemical Industry, Automotive Industry, Water, and Sewage Desalination Plants, etc.
Prime Tube Impex is your one-stop source for Incoloy 800 pipes. Get in touch with us today with your requirements. Our experts will get back to you with the best quote for your requirement for Incoloy 800 Seamless & Welded pipes.
Incoloy 800 HFS Pipes, Incoloy 800 CDS Pipes, Incoloy 800 EFW Pipes Stockist, Incoloy 800 CDW Pipes Trader, Incoloy 800 HFW Pipes Manufacturer, Incoloy 800 Cold Rolled Pipes Supplier in Mumbai, Incoloy Werkstoff NR. 1.4876 Pipes Supplier in Mumbai, India.
Inconel 800 Pipes Specifications:
---
| | |
| --- | --- |
| Standard: | ASTM, ASME and API |
| Stainless Steel: | ASTM B407 ASME SB407 / ASTM B514 ASME SB514 |
| Seamless 800 Pipes: | 4 to 219mm W. T.: 0.5 to 20mm |
| Welded 800 Pipes: | 5.0 mm – 1219.2 mm |
| EFW 800 Pipes: | 5.0 mm – 1219.2 mm |
| Size: | 15″NB TO 150″NB IN |
| Specialized in: | Large Diameter Size |
| Schedule: | SCH5, SCH10, SCH40, STD, SCH80, SCH160 |
| Type: | Seamless / ERW / Welded / Fabricated / LSAW Pipes |
| Form: | Round, Hydraulic Etc |
| Length: | Single Random, Double Random & Cut Length |
| End: | Plain End, Beveled End, Treaded |
Inconel 800 Pipes Chemical Composition
---
Grade
C
Mn
Si
Fe
S
Cr
Al-Ti
Ni
800
min
-
-
-
39.5
-
19.0
0.15
30.0
max
0.1
1.5
1.0
-
0.015
23.0
0.60
35.0
---
Inconel 800 Pipes Mechanical Properties
---
Grade
Tensile Strength (MPa) min
Yield Strength 0.2% Proof (MPa) min
Elongation (% in 50mm) min
Hardness
Rockwell B (HR B) max
Brinell (HB) max
800-H-HT
Psi – 75,000 , MPa – 520
Psi – 30,000 , MPa –205
30
-
-
---
Equivalent Grades of Inconel 800 Pipes
---
| STANDARD | WERKSTOFF NR. | UNS | JIS | BS | GOST | AFNOR | EN | OR |
| --- | --- | --- | --- | --- | --- | --- | --- | --- |
| Incoloy 800 | 1.4876 | N08800 | NCF 800 | NA 15 | ЭИ670 | Z8NC32-21 | X10NiCrAlTi32-20 | XH32T |
---
Inconel 800 Pipes - Types:
---
Incoloy 800 Seamless Pipe
Alloy 800H Seamless Pipe
800HT Incoloy Seamless Pipe
GOST ЭИ670 Seamless Pipe
UNS N08800 / N08810 / N08811 Seamless Pipe
WERKSTOFF NR. 1.4876 Seamless Pipe
ASTM B407 800 Incoloy Seamless Pipes
Incoloy 800HT Welded Pipe
800H/ 800HT Alloy Welded Pipe
Incoloy 800H/ 800HTEFW Pipe
Incoloy Alloy 800H EFW Pipe
UNS N08800 / N08810 / N08811 Welded Pipe
WERKSTOFF NR. 1.4958 Welded Pipe
ASTM B514 800 Incoloy Welded Pipes
Incoloy 800/ 800H/ 800HT Round Pipe
UNS N08810 Round Pipe
GOST ЭИ670 Round Pipe
Alloy UNS N08800 Round Pipe
ASTM B407 800 Incoloy Round Pipes
Incoloy 800HT Custom Pipe
800H Incoloy Custom Pipe
800 Incoloy Alloy Custom Pipe
GOST ЭИ670 Custom Pipe
UNS N08811 Custom Pipe
WERKSTOFF NR. 1.4859 Custom Pipe
ASME SB514 Alloy 800/ 800H/ 800HT Custom Pipes
WERKSTOFF NR. 1.4876 Seamless Pipe
Incoloy 800HT Welded Pipe